Busy week for us here. Sean is on a six day stretch so he can be off the day before turkey day. So I am shrinking two weeks into one to finish this first term.
Since I don't have the time to really blog this week, I'll post a few recent pictures of the kids. Hope everyone is having a great week!
Because everyone should learn to potty with a kitten on their lap!

Lizzie strikes a pose
Mary and Sammy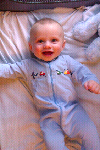 Sammy 5 months old

Fionn, Mary and Cian making an A

Mary, Lizzie, Cian and Fionn making a 5